General
DeskArtes software offers Training Scripts for learning 3Data Expert (and other DeskArtes software) functions in detail.
Downloading and saving the Training Scripts
Currently downloadable Training Scripts:
The scripts must be saved into the TrainingScripts subfolder of the ProgramData folder created during the DeskArtes software installation. The typical default for 3Data Expert 14.1 is
C:\ProgramData\DeskArtes\3DataExpert14.1\TrainingScripts\
or use
%ProgramData%\DeskArtes\3DataExpert14.1\TrainingScripts
as the folder path if your Windows environment uses a different system disk structure.
Note thatyou need administator Windows rights to save the scripts into the ProgramData folder.
Using the Training Scripts
For each exercise a detailed set of commands and actions to take are described in the Training Script dialog as seen in the picture below. The user can go through the necessary process steps with the Begin, Prev, Next and End buttons. For each steps a detailed explanation is given including the pink box indicating which command to give or which dialog button to press.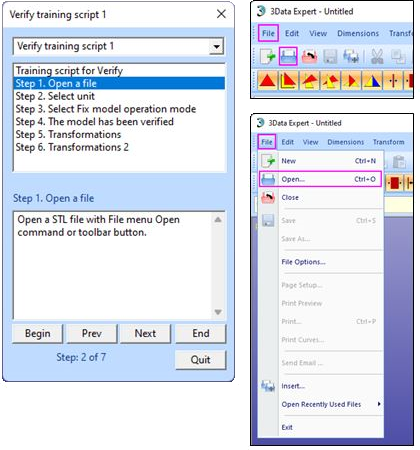 The Training Scripts command starts a step-by-step advice on different tasks done with the software.
Give command Help > Training Scripts.
The Training Scripts dialog appears, select the desired script from drop down list.
Follow the training by pressing the Next button in the dialog.
Carefully read the text for each step and execute required file inputs, commands and dialog field updates.
Press Quit when ready.
For further information on using the Training Scripts, please refer to the on-line help of 3Data Expert.